Eburne, Early Community in Richmond
---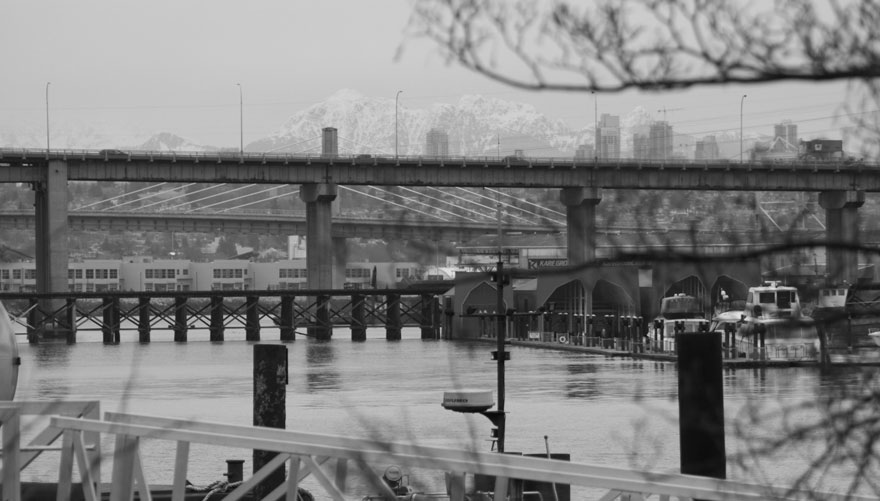 View of present-day bridges from the Eburne area on Sea Island
(Karen E. Tourangeau)
Eburne was one of the earliest communities in Richmond, British Columbia. The building of two bridges in 1890 to connect Vancouver and Richmond prompted Harry Eburne to build a general store and Post Office on Sea Island.
Named after Harry Eburne (1855-1924), a store owner, the original Eburne community started on the Vancouver side of the Fraser river (renamed Marpole in 1916) and expanded to Sea Island where the new MacArthur-Glen Designer Outlet is now located. The Eburne area was located on the northeast corner of Sea Island, along the North Arm of the Fraser River and close to the Marpole and Eburne bridges, where it was, and still is common to see tugboats on the river. Sea Island and Lulu Island were joined by the Eburne Bridge (about where the Canada Line crossing is now).
Eburne Neighbourhood
---
In this 1954 photograph retrieved from the City of Richmond Archives, the bridge on the left is the Marpole Bridge, joining Marpole in Vancouver with Sea Island. The Eburne bridge at right joins Sea Island to Lulu Island, which is Richmond. By 1957, the Oak Street Bridge was opened and the Marpole Bridge dismantled.
The Sea Island Heritage Society has been trying to identify all residents who lived on Airport Road on Sea Island. You can see the list of names and businesses identified so far on our Projects page. As you can see from the photo legend below, we still need assistance with some of the addresses and names. If you can assist, we would love to hear from you.
Eburne neighbourhood on Sea Island, 1954
(City of Richmond Archives 1977 1 108)
Number
Name
1
Marpole Bridge
2
Eburne Bridge
3
Eburne Sawmill (Rayonier/Canfor) in Marpole, Vancouver
4
House (residential apartments -former location of Blacksmith shop) -

Address and names needed

5
House (residential apartments) -

Address and names needed

6
House (residential apartments) -

Address and names needed

7
R.M. Grauer's Store
8
Eburne Post Office or Newspaper Office
9
Newspaper Office or Eburne Post Office
10
Boat tie-up
11-15
Single family houses (number 11 is likely 256 Airport Road, destroyed by fire in 1965, killing two children) -

Address and names needed

16
Bridge Tender House
17
Home Gas Station and General Repairs
18
Gus Grauer home
19
Marine Fuel Station and dock
20
Chevron Bulk Plant
Eburne Today
The building of the Arthur Laing Bridge eventually took traffic away from the Eburne area. The last remaining store, owned by the Grauer family since 1912, was closed in 1975.
Almost nothing remains of the Eburne Area except a sign and the Richmond Chevron Marina. The rest has been replaced by the McArthur-Glen Designer Outlet.
Tell Us About It
---
If you have something you would like to provide to the society, please let us know.
We would love to hear from you.